Basic info
Written by John Michael Helmer, Illustrated by Stuart Berryhill
Lettered by Warren Montgomery
20 pages Black & White
Characters Appearing
Description
From Dunkirk to D-day and to Eastern France, Captain Walter McSorly battles evil in every corner of the globe as The Leaf!
Follow the Golden Age Leaf –Canada's Greatest Hero! on three of his most daring adventures to defeat the Axis powers as a founding member of Winston Churchill's IMPERIALS!
Printing Information
First Print: ??? Copies Printed Officially Released December 2010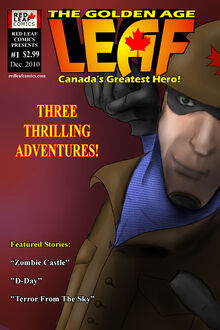 Ad blocker interference detected!
Wikia is a free-to-use site that makes money from advertising. We have a modified experience for viewers using ad blockers

Wikia is not accessible if you've made further modifications. Remove the custom ad blocker rule(s) and the page will load as expected.