Basic info
Written by Hal Hilden
Illustrated by Eric Weathers
Cover by Stephano Cardoselli
20 pages Black & White
Characters Appearing
Description
Follow his early adventures in twenty spectacular all-action pages as he thwarts a Nazi plan to sabotage shipyards in Nova Scotia!
MacSorly, R.C.M.P. Before he was the Golden Age Leaf, Walter MacSorly battled ruthless fur traders and train robbers.
Halifax Nova Scotia. Constable MacSorly is Canada's last hope to thwart an evil Nazi plan to destroy the Halifax shipyards.
RCMP Mountie Walter MacSorly defends the dominion from Nazi spies!.
Printing Information
First Print: 250 Copies Printed Officially Released Nov 2011
Hal-Con 2013 Variant 75 Copies Printed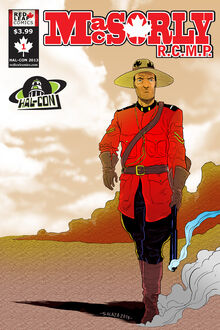 Ad blocker interference detected!
Wikia is a free-to-use site that makes money from advertising. We have a modified experience for viewers using ad blockers

Wikia is not accessible if you've made further modifications. Remove the custom ad blocker rule(s) and the page will load as expected.