SmithvsSmith.com
. His comics explore marriage, travel and cat ownership.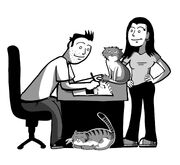 Matt Smith has lived all over the world including Germany, Thailand, Malaysia, Hong Kong, Japan and Kuwait.

His most recent comic is Three Crushes: Tales of Middle School Heartbreak. Created in 24 Hours on October 1st, 2016 as a 24 Hour Comic , Three Crushes illustrates true tales of a young Matt Smith looking for love in middle school as a student in Malaysia.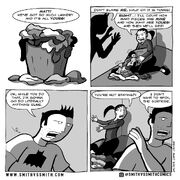 Three Crushes 
is avaible online at
Payhip
. It is also sold at 
Legends Comics & Books
and 
Curious Comics
in downtown Victoria, BC.
Smith vs Smith also appears in the University of Victoria Martlet and the Camosun College Nexus newspapers.
Pages in category "Smith vs Smith"