Basic Info
Written by Davis Dewsbury
Art & Colours by Sharon Gauthier
Letters by Andrew Thomas
Page Count:
Published by Great North Comics
Characters Appearing
Janks Fletcher
The Occultist (1st Appearance)
Description
Auric returns in an all new 2016 mini special. Plus a pin up gallery of various artists featuring the mane man! 
Printing Information
First Printing - 200 Copies Official Release - May 7th, 2016 for Northern Ontario Expo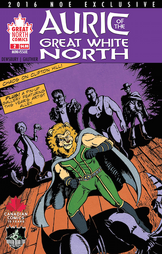 Ad blocker interference detected!
Wikia is a free-to-use site that makes money from advertising. We have a modified experience for viewers using ad blockers

Wikia is not accessible if you've made further modifications. Remove the custom ad blocker rule(s) and the page will load as expected.